By Alex Woodie—As the freight train that is generative AI continues barreling down the track to an uncertain destination, we thought it would be good to take some time to stop and ponder where we're currently at in terms of GenAI adoption.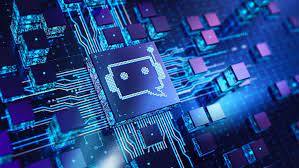 It's been quite a ride since the launch of ChatGPT in late November 2022 ignited the GenAI revolution. While we have been tracking the development of generative AI technology for more than five years here at Datanami, there's no denying the huge impact that OpenAI's debut of ChatGPT is having on the world.
To gain a better understanding of GenAI's impact on business and society, we aggregated recent research on GenAI adoption, and present the findings here.
50% Productivity Increase
Adopting GenAI brings the potential for significant efficiency gains in the workplace, on the order of 50%, according to Teradata Chief Product Officer Hillary Ashton.
"We know as an industry that productivity is significantly improved, somewhere over 40%, when you start bringing these capabilities into the market," the CPO tells Datanami, citing reports. "The low end is 40%, the higher end is 60% improvement in productivity through GenAI capabilities in terms of getting work done faster."
$4.4 Trillion Economic Gain
GenAI's impact on the world's economy could between $2.6 trillion and $4.4 trillion annually, according to a June McKinsey report. The impact would be twice that if McKinsey factored embedded GenAI, it said.
Much of the benefit would come right where you expect it: automating away the work done by human workers. "Current generative AI and other technologies have the potential to automate work activities that absorb 60% to 70% of employees' time," the company says.
More Than 40% Experimenting
According to Deloitte's third-quarter CFO Signals report, 42% of companies are currently experimenting with GenAI, with 15% actively incorporating it into their business strategy. The survey found that 24% are reading and talking about it, while 17% of survey respondents say it's too soon to make a decision on its use in their companies.
The potential impact to risk and internal controls was the top concern of GenAI adoption, according to Deloitte's report, with 57% citing that concern, followed by 52% citing data infrastructure and technology needs and 51% citing investment needs. Governance, ethical, and legal impact fell further down the list.
80% Have Been Exposed To It
A McKinsey study from April found that 79% percent of respondents say they've had at least some exposure to GenAI, "either for work or outside of work." Twenty-two percent say they are regularly using it in their own work, McKinsey says.
The early GenAI projects seem to be going well, according to the McKinsey report, which found that 40% of the companies who have already adopted GenAI say they plan to increase their overall AI investments as a result of their GenAI projects.
70% of GenZ Using It
A Salesforce survey found that 70% of the Gen Z populace, or people born between about 1996 and 2012, are using GenAI. "Gen Z is paving the path for generative AI," the company said in its Generative AI Snapshot Research report released September 7.
Nearly two-thirds of GenAI users, or 65%, are Millennials or Gen Z, the report found. Among the people of the world who don't use GenAI, 68% are Gen X or Baby Boomers, the report found. The report found that 48% of Gen Z believe they are on their way to mastering GenAI technology.
Nearly 100% Adoption by Devs
A new Sonatype survey of 800 developers released today found that 97% of DevOps and SecOps personnel are using GenAI today. Not all software engineers are using it for development, however. Sonatype's survey found that 45% of SecOps engineering leads have already adopted GenAI, compared to 31% for DevOps.
The survey found that 74% report feeling pressure to use GenAI despite identified security risks. "Adoption has been widespread across the board, and the software development cycle is no exception," said Brian Fox, Sonatype's co-founder and CTO, in a press release. "While productivity dividends are clear, our data also exposes a concerning, hand-in-hand reality: the security threats posed by this still-nascent technology."
75% of Companies to Ban It
Despite the documented productivity gains, many companies around the world are planning to ban its use. According to a new report by BlackBerry, which surveyed 2,000 IT decision-makers across North America, Europe, and Asia, 75% of organizations are considering or implementing a ban on ChatGPT and other GenAI apps in the workplace.
Security and privacy are the biggest threats of ChatGPT and GenAI, cited by 67% of organizations that are implementing a ban or considering one. Fifty-seven percent of the survey-takers cited risk to corporate reputation.
But it's not all doom and gloom, as the BlackBerry survey shows that there are clear benefits to the tech. Possible advantages of GenAI and ChatGPT, according to the survey, includes increasing efficiency (cited by 55%), innovation (cited by 52%), and enhancing creativity (cited by 51%).
Biggest Impact in 3 to 5 Years
A new survey by KPMG US found that nearly two-thirds (65%) of 225 U.S. executives surveyed earlier this year believe GenAI will have a high or extremely high impact on their organization in the next three to five years.
However, 60% of the executives say they are still a year or two away from implementing their first GenAI solution, the company says, adding that companies are planning on taking about six to 12 months to research GenAI, evaluating internal capabilities, and investing in GenAI tools.
Category: Uncategorized