Customer Solution Blog
AYLA NETWORKS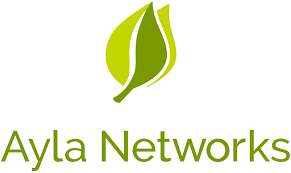 Over the past decade, Ayla Networks has developed best in class cloud-based platform and solutions
to uniquely address the business needs of the consumer (smart home), enterprise/commercial, and telco/ISP markets.
Today's smart phone can use thousands of pre-defined apps that capture data, store and send data from your handheld. What you don't have is the ability to analyze the data and make decisions based on the data and dynamically change the outcome.
With the upcoming proliferation of the Internet of Things, the SnappThings platform will let you create fully integrated IoT Mobile Apps and control the information provided by any Smart Sensors and IoT clouds, on any communication protocol or any operating system and device.
Key Differentiated Capabilities
Digital twin representations of virtually any physical asset for operational visibility and control
Comprehensive set of secure edge (device) agents for a variety of deployment scenarios
Flexible offline capabilities including data batching to enable cloud cost reduction
Industry leading 2-way device management functionality for diagnostic monitoring and over the air (OTA) automation
Secure, scalable data pipeline management combined with advanced analytic applications
Delivering Compelling Benefits, by Market
Helping brand companies in home appliances, consumer electronics, residential HVAC systems and water management systems among others
Created differentiated products and sell more units
Expand margins with higher price points and lower cost of servicing
Drive new revenue streams through automated replenishment
---
Helping commercial discrete & process manufacturing, and large service enterprises in foodservice, healthcare, consumer goods
Reduce cost of product servicing & support
Lower fixed asset downtimes and disruption to the business
Keep supply chain seamlessly moving through asset tracking and tracing
---
Helping telecoms companies, specifically internet service providers such as wireless, wireline, cable and satellite
Dramatically lower the cost of customer service & support through advanced CPE data analytics
Full operational visibility into CPE (such as set top boxes, home network equipment and other devices)
Deliver a superior customer experience and reduced customer churn