By Alex Woodie–Inflation eased a bit in October, but many economists are still predicting a recession will start in 2023, thanks to rising interest rates. Despite the glum overall economic forecast, spending on data, analytics, and AI projects are projected to remain solid, and perhaps will even grow, as business transformation and cloud are perceived as strategic competitive differentiators, analyst groups say.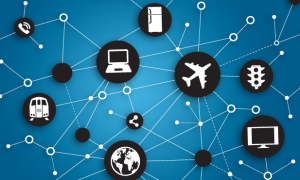 Gartner last month predicted that global IT spending would increase 5.1% next year to $4.6 trillion. The growth centers will be software, which Gartner forecasts will see an 11.3% increase in spending, followed by IT services, which will grow 7.9%. Spending for on-prem data center gear is projected to grow just 3.4%, while spending on devices will shrink by about half a percentage point, Gartner says.
Enterprise IT spending is "recession-proof" as executives expand their digital business initiatives, says Gartner Distinguished VP Analyst John-David Lovelock. "Economic turbulence will change the context for technology investments, increasing spending in some areas and accelerating declines in others, but it is not projected to materially impact the overall level of enterprise technology spending," he says.
A Gartner survey of CIOs published last month found the top investment areas for 2023 include cyber and information security (66%), business intelligence/data analytics (55%) and cloud platforms (50%). "However, just 32% are increasing investment in artificial intelligence (AI) and 24% in hyperautomation," the company wrote.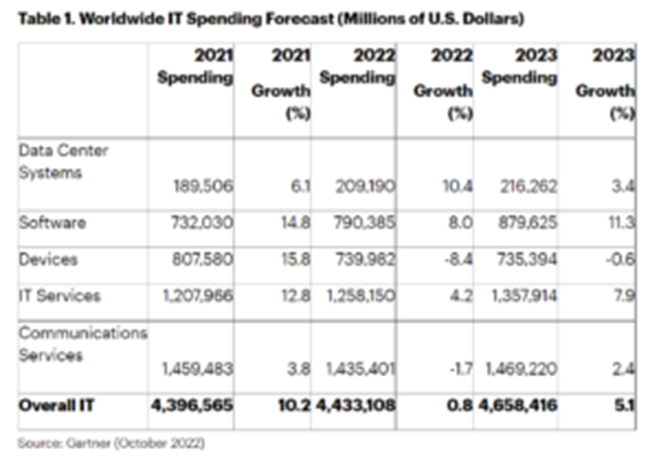 Source: Gartner
Data, analytics, and AI will be front and center as CIOs shift their focus from back-office automation to customer-facing initiatives that can drive growth, says Gartner Distinguished VP Analyst Janelle Hill.
"Leading CIOs are more likely to leverage data, analytics and AI to detect emerging consumer behavior or sentiment that might represent a growth opportunity," Hill says.
That sentiment was echoed by IDC, which recently predicted global investments in digital transformation would grow by 16.3% to $3.4 trillion next year.
"Despite strong headwinds from global supply chain constraints, soaring inflation, political uncertainty, and an impending recession, investment in digital transformation is expected to remain robust," said Craig Simpson, senior research manager with IDC's Data & Analytics Group.
Forrester hasn't detected a broad signal indicating a decline in spending in data, analytics, and AI projects. Forrester conducts Budget Pulse surveys, and the latest ones indicate that spending on data and analytics will be flat to slightly elevated next year compared to 2022, analyst Kim Herrington says.
"The data and analytics was strong in saying that it was going to stay relatively about the same…or increase," she tells Datanami. "Because the truth is you can't cut back on your data and analytics. It's about moving forward on innovation. You can spend more on artificial intelligence, but you also have to spend more on data and analytics, because that comprises also your BI and data governance [spending]. This is the stuff that makes the world go round."
Forrester is bullish on AI. In October, the analyst firm predicted that AI spending will double from 2021 to 2025, reaching $64 billion across eight of the largest countries in the world. That's a rate that is 50% higher than the overall software market, the analyst group says.
The key driver, according to Forrester Forecast Analyst Michael O'Grady, is that AI will be infused in products across the gamut of industry and society.
"AI has great potential across knowledge and data intelligence, security and cybersecurity, process optimization and automation, AI tools and database, health and drug discovery, customer and human capital management, and other categories," .
Category: Uncategorized