By Alex Woodie—The Internet of Things (IoT) has been lurking on the edge of our networks and our consciousness for some time. With a substantial increase in bandwidth promised via 5G networks, the potential for businesses to seize a competitive advantage in 2021 is sizable.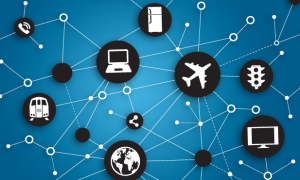 We tapped our networks of vendors, experts, and luminaries to get their prognostications on the potential for IoT, edge, and 5G computing in 2021. What you're about to read is a lightly edited compendium of their contributed comments.
In 2021, we'll start to find out what 5G will mean in the real world, says Avishai Sharlin, division president at Amdocs Technology.
"This year, we started to get a glimpse into what 5G can do, as many providers began to roll out 5G services in urban areas," Sharlin says. "With 30% of US wireless subscriptions expected to be 5G by the end of 2021, we'll start to see adoption accelerate as AI and IoT device technologies begin to integrate with 5G connectivity. Indeed, our research shows that 31% of consumers are interested in using 5G to enhance their experience with connected home devices, and 26% to improve cloud and online gaming quality."
OSIsoft CTO Richard Beeson sees a lot of hype surrounding 5G, and says the technology will not have a material impact. "We won't see any major developments from 5G," he says. "Despite the hype and excitement of 5G, from a purely technological perspective, we won't see much 5G impact beyond the consumer market for a while."
Vinay Ravuri, CEO of EdgeQ, which emerged from stealth in November, would beg to differ, as he sees enterprise 5G deployments gaining steam throughout 2021.
"We will see a substantial increase in 5G trial initiatives by enterprises over the next 12 months, especially in verticals such as manufacturing, energy, and surveillance, to enable mission-critical applications that require low latency," Ravuri predicts. "In 2021, consumer handsets will remain the most widely adopted 5G use case, focused on allowing faster data speeds for users, before being overtaken by enterprise applications in 2022. These enterprise and industrial deployments will offer more radical disruptions and significant value-added services and apps associated with 5G."
Computing at the edge–as opposed to the end point or the data center–will have a watershed year in 2021, predicts Lelah Manz, senior vice president and general manager of web performance at Akamai.
"With a variety of turn-key solutions readily available, it will no longer be a question if developers will run custom code at the edge, but which code," Manz says. "Edge computing will see production use increase even faster than the cloud did, because the adoption is much easier and can be done in baby steps and without the need to heavily re-architect code, applications, and processes, and the learning curve for developers is very small."
Manz also gave Datanami its first *bonus prediction* of the year: "In 2022, edge compute will be a commodity and a natural choice for most development teams. It won't replace the cloud, but the edge will be just another location for code execution. Developers will put their code where it runs best."
Every new computing paradigm needs a killer app. For IoT, it could be touchless health monitoring, says Senthil Kumar of Foghorn.
"Identifying elevated body temperatures within any work environment will be vital in helping protect against both COVID-19 and other illnesses, such as the flu or common cold," Kumar says. "However, the CDC warns against potential exposure when taking an employee or customer's temperature via infrared thermometers. In 2021, organizations will look to IoT-powered, real-time analytics, also called edge AI technology, to gather the necessary data to help enforce and maintain a safe distance while screening employee or customer health."
The rise of AI is driving the deployment of 5G base stations on the edge of the corporate network, which in turn is increasing computational demands on the edge, says Prasad Alluri, Micron's vice president of corporate strategy.
"So soon, in every base station, every tower might have compute and storage nodes in it," Alluri says. "And there are lots of startups that are focused on building edge data centers that look like transport containers that sit in metro areas to enable content–like your Netflix videos–to be closer to the consumption. We'll see the adoption of these edge data centers in the next few years, as enterprises and consumers look to tap massive amounts of data for insight and faster services closer to the source.
In 2021, the focus of many IoT development will be the home office, says Nutanix CEO Dheeraj Pandey.
"We'll see further disaggregation of the office, the firewall and the overall network perimeter," he says. "2021 will continue the phenomenon of miniaturization of the enterprise office and the firewall, and rapid digitization of the townhall and all-hands experience, as the remote worker logs in from home, waits for the vaccine to take effect, and continues to balance video fatigue with overall family wellness. Video, AR, and VR startups will mushroom in the coming year as the enterprise responds to an increasingly assertive digital worker who would like to balance work and life."
In 2021, you will start hearing about the Internet of Behavior, predicts Paul Moxon, SVP of data architecture at Denodo.
"An extension of the Internet of Things, Internet of Behavior (IoB) utilizes technology to track people's activities and uses the data to predict and influence their behavior," Moxon says. "Technologies including smartphones, location tracking, digital voice assistants, facial recognition cameras, smart speakers and sensors in stores, factories and offices gather data and associates them with the behavioral actions such as payment method, purchase decisions, item preferences, adherence to codes of behavior, and other activities."
The coronavirus pandemic resulted in a work-from-home (WFH) mandate, which shifted the attack surface exposed to hackers. In 2021, malicious actors will explore other attack venues on the homefront, says Nigel Thorpe, technical director at SecureAge.
"The growth of connected devices from smart light bulbs to digital assistants can give cybercriminals access to home networks," Thorpe says. "From there, the jump to an employee's laptop and into the corporate network is relatively easy. But IoT security is still woeful and is not going to change anytime soon. Even trusted technologies for securing remote workers such as multi-factor authentication (MFA) and Virtual Private Networks (VPNs), do not defend against a cybercriminal who has hacked their way onto the home PC."
A heightened state of awareness of emerging security risks in the WFH environment would be advisable, according to Mike Wilson, founder and CTO of Enzoic.
"IoT attacks are on the rise, with malware targeting IoT devices up 50% from last year," Wilson says. "The bulk of these attacks were against consumer devices and, with more people working from home for the foreseeable future, the stakes are higher than they used to be. We've already seen some creepy IoT hacks ranging from smart home systems to baby monitors, but expect hackers to increasingly target consumers' connected devices in an attempt to infiltrate corporate networks. Or to put it another way, CIOs need to be as concerned about your Ring doorbell as they do with your company-issued laptop."
Digital twins, which Gartner says could save $1 trillion in manufacturing costs each year, will see have a big year in 2021, says Keith Higgins, vice president of Digital transformation for Rockwell Automation.
"Over the next 12 months, by interconnecting business systems via digital thread, organizations will virtually commission new production lines," Higgins says. "Using digital twins, manufacturers will run machines virtually before parts are ordered, discover control issues before support staff goes on-site, predict future performance challenges/opportunity, simulate line changes to keep up with ever-changing customer demands and train new staff on systems without consequence."
Multi-cloud and hybrid cloud setups have become the norm, and in 2021, the edge will start to catch up, says Derek Swanson, CTO of Silk (formerly Kaminario).
"Almost 70% of 451 Research respondents polled planned on having a hybrid and/or multi-cloud system in place by 2019," Swanson says. "Providers should also be looking for new technologies that enable edge-located real-time application stacks to push the customer experience closer to the edge device. Rich edge computing is very new and emerging, as back-end technology stacks mature enough to provide high customer value in real time, look for application development offering new customer experiences to explode."
The increased rollout of 5G will power a silent revolution, especially with regards to machine intelligence at the edge, says Jonas Bull, head of architecture for Atos North America's AI Lab.
"Where the 4G rollout enabled a decade of content production and consumption that very visibly changed the way we live and work, the 5G rollout will be no less revolutionary, but not so obvious," Bull says. "Edge AI will run the networks, but will be able to communicate faster to the core, uploading data and retrieving content, instructions and updated models. Moreover, the more intelligence is at the edge, the less critical that uplink to the cloud becomes. As local edge AI gets smarter, we expect to see inter-device communications and knowledge transfer, as well as groups of devices making rapid decisions."
The IoT and 5G are often mentioned together. While 5G will (eventually) bring a big increase in mobile network speeds, get ready to go forward on IoT without 5G in 2021, says Chander Damodaran, chief architect of digital for Brillio.
"Technological and regulatory hurdles have repeatedly delayed the rollout of 5G," Damodaran says. "While 5G generates more buzz, the edge computing space represents a major opportunity for telecom service providers over the next few years, with the market increasing from $3.5B in 2019 to an estimated $43.4B by 2027. This will continue until 5G becomes much more prevalent."
Kubernetes has become a core component of the cloud architecture, enabling users to scale and to move server workloads on public cloud platforms. In 2021, we'll see Kubernetes ramp up in private, on-prem data centers, predicts Jon Toor, the CMO of Cloudian.
"Until recently, the major public cloud providers dominated the conversation around Kubernetes, arguing that almost everything, especially Kubernetes deployments, should be located in the public cloud. However, more and more enterprises have begun to realize that Kubernetes-based workloads (and many workloads in general) are actually a better fit on-prem, depending on their specific business needs," Toor says. "During the next year, VMware will introduce more products and partnerships that will further drive Kubernetes on-premises and make the technology available to a whole new mainstream audience."
COVID-19 served as a catalyst for IoT investments in 2020, and that trend will continue in 2021, says Christine Boles, vice president of the IoT Group and general manager of the Industrial Solutions Division at Intel.
"The pandemic has greatly accelerated the need for companies to complete their Industry 4.0 transformations with solutions that allow them to have more flexibility, visibility and efficiency in their operations," Boles says. "We'll see an acceleration of adoption of solutions that help address that need, ranging from AI including machine learning, machine vision and advanced analytics. As the economy bounces back, we'll continue to see investment in the foundational OT [operational technology] infrastructure with more IT capabilities to allow the broad ecosystem of players to deploy these solutions and will see Industry 4.0 adoption significantly ramp up in 2021."
Vinay Ravuri, the CEO of EdgeQ, sees an American manufacturing renaissance on the edge, fueled by AI innovation.
"Enabled by reliable, high-performance 5G connectivity and real-time edge computing capabilities, enterprises will more rapidly implement AI technology to support various use cases across their organizations, including robotic assembly lines, autonomous vehicles, augmented reality training, and more," Ravuri says. "These intelligent, AI-driven solutions will automate traditional, manual processes to increase performance and visibility while lowering cost."
"The network is the computer," a phrase coined by Sun Microsystems' Chief Researcher John Gage. The idea will return in 2021, albeit with an IoT twist, predicts David Cheriton, CEO and founder of Apstra.
"In 2021, there will be further recognition of the network as being the foundation for digital transformation, pushing enterprises to private cloud, edge computing, hybrid/multi-cloud and improved automated management, leading to a software-first thinking in new deployments," Cheriton says. "What software are we going to use to manage our network? That will be the first question for 2021 new deployments."
Category: Uncategorized