By Naras Eechambadi
As companies travel through the various stages of digital transformation, this enterprise-wide push invariably seeks to improve focus on the customer, especially by personalizing their experience with the company across all channels and interactions.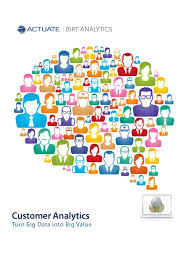 To accelerate this transformation, many organizations are turning to customer data and analytics platforms (CDPs), which can become the hub of its entire marketing technology stack, helping orchestrate customer data and optimizing the customer experience.
Large enterprises, which have the expertise and resources, are often pressed to decide between building their own CDP or buying a software solution. Here are some considerations we commonly see:
Three Steps Up Front
Behind the Build vs. Buy decision is a larger strategic need to bridge customer data across the organization and act on it more effectively to drive business results. Most often than not, centralized customer data is solved by IT in larger data lake projects, but it is rarely marketing- or analytics- ready. Building or buying a true CDP at the enterprise level means deploying a solution that delivers data to multiple stakeholders, from technical savvy users to business users, across the organization.
The first step before deciding is to ensure buy-in from three key groups — IT, analytics, and marketing — to inform and provide the roadmap for successful implementation and user acceptance beyond the purchase decision. Executive sponsorship and commitment from top leadership of the enterprise also helps ensure success. All stakeholders need to be involved and have input into the decision-making process, even if the budget is held by the primary stakeholder, which is typically marketing.
The second step is to understand business objectives, the overall digital transformation and customer strategy, plus the current state of your customer data infrastructure and marketing technology — as well as the sophistication of your customer engagement and personalization efforts. The marketing and business teams need to deliver these. A use case-led CDP project or program drives a clear ROI-phased, data-driven delivery roadmap.
The third step is to fully assess long-term costs between buying and building. Deploying a CDP is one thing; growing rich integrations to internal and external data systems over time is another.
What's in a CDP?
Whether buying or building, it is important to have a realistic expectation of time and budget needed to successfully implement, roll out and provide ongoing support. Before exploring both options, you should know the key components of an enterprise-grade CDP:
Data Storage Layer: a repository or set of repositories to process data from;
Data Orchestration Engine: a set of workflows to process, transform and route data;
Attribute and Segmentation Engine: transforming data into actionable assets;
Integration Layer: ability to plug in files, APIs or streams;
User Interface: providing stakeholders with a user-friendly UI;
BI & Analytics: visualizing data assets created within the platform;
Modelling Capabilities: ability to leverage external model(s) directly in the CDP;
Identity and Profile: creating a 360-degree view of the customer;
Data Security: sets of processes to comply with internal and external data governance and privacy policies.
Build vs. Buy: Breaking it Down
Build
Building comes with a common set of challenges:
How many of the components listed above do you already have in-house to execute on a CDP?
Are these components centralized or scattered across your organization? You'll need to tie them to the business use case delivery roadmap. Then assess the overall effort: not just resources but also cross-organizational synergies between IT, analytics and marketing that must be in place. Finally, for any identified gaps, assess if your organization has the skillset to integrate this new technology into your existing stack.
How will you maintain the integrations?
A CDP sits within your infrastructure and some of its value is derived from its ability to connect to other internal as well as third party systems. These connections must be maintained as an API as end-point systems are often updated. Will you have the capacity, knowledge base and continuity to maintain these over time?
Who will use the CDP? Questions to Ask:
Do you have organizational buy-in and consensus from your IT, analytics, and marketing stakeholders? Can IT leverage all their current technology infrastructure investments and operate within the bounds of their own data privacy governance? Will your analysts have a single intuitive interface to deploy their models and organize their data as well as flexibility to create reports and dashboards as detailed or as high level as they need? Does your platform provide marketing with the ability to segment, manage and operationalize data flowing to their marketing channels? Are you prepared to have a dedicated scrum team and sprint planning for this new system? Are there more business stakeholders that can benefit from the CDP and help bolster the business case, e.g., other brands or affiliates, perhaps fraud and risk?
That's a lot of questions, and they all need answers before embarking on a build.
Buy
There has been a lot of confusion and disappointment as the CDP market grows, vendors sell to their capabilities instead of actual customer need, and choices become increasingly complicated. Here are five questions to help choose the right partner:
Product: Key indicators include strength and robustness, core and extended functions, activation and partnerships, ease of use, and analytics and reporting;
Use Cases: Be sure to have a well-defined and identified list of use cases to help realize better business outcomes;
Deployment Timeline: Look for quick deployment with initial, high value/priority use cases.
Platform Architecture: Can the platform be deployed on any cloud environment and/or on-premise?
Vendor Corporate Profile: What's the reputation, proven industry experience and unique patents/value-adding intellectual properties of your vendor?
In the Final Analysis
The right CDP can be at the core of your martech stack. However, you must clearly define your organizational needs, which can save significant investment as well as drive revenue growth. While you may already have many of the components of a CDP, maintaining the integrations, development roadmap and data quality is not only a tremendous strain on your IT organization, it can prove quite costly.
Buying a CDP is a significantly faster go-to-market strategy where a given use case, depending on complexity, can be delivered between eight and sixteen weeks vs. the months/years it can take to build one. No matter which direction you take, formulated use cases should drive any decision to realize the CDP promise of bringing all your customer information, from multiple channels, brands and geographies into a single system for a unique customer view.
Category: Uncategorized