By Eran Gil—For many businesses, despite best-in-class architecture, the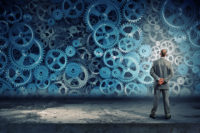 front-end and back-end of their company exist as two functioning but separate parts of the whole enterprise. The front-end is where the customer interacts, but there is little to no integration with the behind the scenes back-end where the cogs are turning and the data is stored.
Increasingly, organizations are looking for ways to bridge that gap, and getting more out of the services that cloud providers offer through integrations. As a result, they see the opportunity to close this gap in productivity and profit.
Here are four ways that front-end and back-end integration can give your business a boost:
1. Leverage the Data You Collect
Even when both the front-end and the back-end of your infrastructure are the strongest they can be as silos, finding ways to streamline the two into one cohesive unit is a whole new ball game. The information that's held in each part of your business can be game-changing for the other, if only you could ensure that they integrate properly, without gaps.
Think about your CRM for example. It has all the data necessary to create a stellar loyalty program. It knows who your high-value customers are, allowing you to create personalized offers or VIP support options, and can even follow how they use these tailored offerings.
Your CRM collects and records your continual engagements with your customers, including what they've bought, how much and how often, and their preferred channels and habits. Salesforce can then send this data to another application, in this case, where it is analyzed with built-in machine learning algorithms that can be trained to make the right predictions to create a superior customer experience.
The more data Salesforce can provide, the better the predictions can be. When integrated correctly, this builds a bi-directional interface that can support not only your existing customers, but build models for future customers as well.
For businesses, collecting this data and linking the front-end usage to the back-end systems provides insights about customers' needs, supporting improvements to the service, options for new business models and offerings which already have a proven valid need. And it's your cloud vendor's services making it happen, with minimal effort on your part! Without taking advantage of this holistic integration, the data remains dormant, and the insights are lost.
For many businesses, although they use cloud software and infrastructure, they are missing out on the benefits that the cloud providers offer, simply by lack of know-how, strategy or even awareness of what's out there.
2. Use Automation to Enhance Customer Experience
The business benefits are clear, especially when it comes to customer experience. For the customer, embracing automation through integration can complement existing human service, providing accurate data from back-end systems in a transparent and efficient way.
On a practical level, integrating your back and front-end also provides a streamlined way to optimize your day-to-day operations. Think about the benefits of integrating the data from your website to the CRM, and then to your billing or invoicing system, and on to your production or shipping and handling processes, hands-free; no more duplication or human error.
At a glance, your business now has insight into every touchpoint of the customer journey from end to end. Internally, you can now identify problems such as downtime of machinery or lack of staff, and automatically find solutions to those situations; externally, an SMS or email has already been sent to update your customer about their order.
A smart home example can further clarify how improvements to customer experience can work in practice. A customer's smart devices are connected and registered to Salesforce and AWS IoT. The customer can then use their Amazon Alexa device to control changes to their smart home such as heating, hot water, lights and more, combining device management with customer experience in a tangible way. If an issue arises, the customer can easily open a service ticket through their Alexa, which would then open up in Salesforce. The customer's interaction with their devices is seamless, intuitive, simple, and becomes synonymous with their customer experience with your business as a whole.
3. Complement Legacy Systems and Boost Daily Performance
When deciding where to place funding for best-in-breed technology, many companies focus on digitizing and improving their front-end services, as that's where the customers are. However, trying to manage a shiny front-end image with legacy systems that are decades old can cause frustration and delay in adopting the latest innovation. Machine learning and artificial intelligence are helping businesses take strides in automation and efficiency, but you will only see the real benefits once your systems are integrated on the cloud.
Look at an e-commerce operation for example. Historically, companies would want to assign a dozen or so attributes to a product. Today, there could be hundreds or even an unlimited amount of attributes to handle so that customers can search adequately on a business website. Legacy platforms are insufficient for this need.
Firstly, they often need manual support, which can be both difficult to handle and rife with errors. Secondly, as discussed above, in many cases the latest capabilities are simply impossible with outdated systems and require migration. Imagine this same e-commerce operation that wants to build an advanced search site. Without the adequate supportive back-end system, the business risks losing this competitive advantage and being left behind.
In contrast, your cloud provider offers the tools to integrate your front and back-end system, automatically assigning attributes, with image recognition or natural language processing. This takes the pressure off your staff, increasing accuracy, and streamlining the process to scale as large as you need. As well as this, the latest cloud technology makes space for innovation, ensuring that you can take advantage of the disruptive environment of your industry, and keep up with the competition.
4. Increase Revenue
It's easy to see how these cloud-enabled integrations can help save valuable dollars off your bottom line. The manual processes that slowed you down are eliminated, helping you utilize staff for higher-value tasks, and reduce the amount you spend on repetitive administration. Your customers are served faster and more accurately, leading to a better conversion rate and less churn. Scaling bigger becomes effortless, and by utilizing the cloud the latest innovations move from a complex pipeline dream to a working reality.
Why Doesn't Everyone Do It?
Choosing the right cloud services to integrate your front-end and back-end can be complicated, especially if you're working in a hybrid environment with legacy systems as well as the latest cloud technologies. Gaining a complete picture of your environment is essential, or the business value of any analytics you glean could end up skewed or inaccurate.
Moving to a fully cloud-enabled approach is key, and simplifies integration. This task requires clear standards, mapping out of all systems and platforms, creating a roadmap and keeping an open mind that is ready to embrace change, new technologies, and processes. We recommend doing this by building your organization's Cloud Center of Excellence.
Category: Uncategorized