by Eddie Amos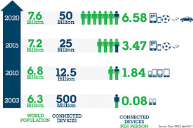 New power does not come from data itself, but from the evolution of connectivity. First we connected computers, then we connected 2.3 billion people annually and then we connected sensors and machines. There is no doubt that our lives as humans are evolving. New technologies, including everything from our refrigerators and Fitbits to our cars and drones, have a huge impact on our lives. But they also have an even bigger ability to impact our business operations.
Ninety percent of the world's data was created in the last two years. In 2005 the world created a record breaking 130 exabytes of information; that's enough data to stack books to Pluto and back several times over. Yet, it's nothing compared to the more than 40,000 exabytes we're expecting to produce by 2020.
Those who excel in this data-driven economy do more than react – they are proactive champions of information based competitive advantage. These people also understand there is an important distinction between the Industrial Internet of Things (IIoT) and the Internet of Things (IoT).
The IIoT should not be confused with the IoT; they have completely different business implications and impact. IoT is consumer-based and works towards making your world a better place – by telling you when your washing machine needs service, controlling your home systems while you are away and indicating your peak hour of sleep during the night or heart rate during a workout.
The Industrial IoT is working to make our collective world a better place – by improving the monitoring, control, safety, reliability, and operational excellence of the massive industrial systems that power everything around us. Greater visibility and control into operations not only benefits the infrastructure, security, energy production, transportation and medical systems powered by the IIoT that we all rely on, but it also improves decision making on the plant floor and across the industrial organization.
Every production facility has thousands of sensors that power the IIoT. Ultimately each asset, including each pump, valve, motor and generator, will generate accurate data to provide a holistic view of operation performance. This will allow manufacturers to identify when individual assets are running below efficiency and determine how the inefficiency will impact the entire plant. And not all assets are created equal, and as a result, they are prioritized across the facility and organization. Under ideal circumstances, the IIoT will highlight whether critical assets are running below peak efficiency – allowing plant managers to apply smart technology to the correct equipment and immediately schedule maintenance and repair – before all operations grind to a halt.
It's always challenging to put theory into practice. With so many sensors and connected assets, the IIoT generates overwhelming volumes of data from equipment assets, and there is no room for oversight when it comes to managing asset maintenance and risk. For this reason, Harvard Business School's Michael Porter has formulated four key stages for leveraging smart, connected products to secure the data context that businesses all seek, including:
Monitor – both sensors AND external data sources can be combined to paint not only the "what" but also the "why"
Control – separate control from physical proximity to improve reaction times and lower costs
Optimize – enabling algorithms enhance productivity by focusing on the most impactful actions
Autonomy – combining all of the above enables elements of autonomy that redirect resources to strategic imperatives
All operators understand that asset failure could result in the injury of people, the environment and business investments – therefore it's crucial to have the technology needed to flag potential risk and proactively avoid it. Today many organizations are making due with multiple systems and solving one problem at a time rather than considering long term costs and strategic implications. When systems are operating in silos across an organization, they generate disparate data sets and cause hours of rework and confusion. Because data is so critical for business operations, it must be collected, processed and managed in a cohesive system to be made actionable and enable better decisions. This is how businesses realize the value of the IIoT in both theory and practice.
A unified data set that pulls from every sensor and connected device can help businesses benchmark the performance of individual sites against that of others in the organization, and even against industry peers around the globe to get a true picture of how well they're operating. To ensure that organizations are taking full advantage of the IIoT, making strategic business decisions and seeing a return on their investment, they must be able to draw insights from data within their own plants across their facility and against the performance of other organizations in their industry. Asset Performance Management (APM) programs efficiently and accurately manage all of this data to improve reliability strategies, reduce operational risk and drive actionable recommendations. APM also provides incredible ease of accessibility, use and sharing – allowing companies to synchronize operations and run at peak-levels.
Having a better understanding of asset allocation and predicted replacement and maintenance costs can be the difference in making large-scale investments for many organizations. Whether it be in the form of new facilities, capital equipment or personnel, understanding with a greater level of certainty what the production and cost estimates are can enable more informed business decisions.
Today, many manufacturing companies base purchasing and investment decisions off of this data to ensure a healthy bottom line that provides both financial stability and flexibility. Making business decisions without this level of data analysis can be detrimental as performance insight and equipment health is limited to isolated metrics rather than actual comparative data and information. When accurately managed, big data generated by connected assets keeps plants more efficient and creates a safer environment – allowing executives to shift focus away from operations to more advanced business strategies and investment options.
Category: Uncategorized