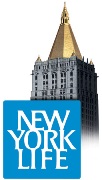 How NY Life is addressing Big Data Insurance by Nicole Hemsoth, Datanami
When it comes to adoption of big data technologies, including advanced analytics, visualization, NoSQL and other data management, few business types seem as vocal about the new opportunities as the booming insurance industry.
Lately we've been writing some interesting developments on the big insurance data front, but this week we wanted to dig in deeper and talk with the CIO at top insurance company to see what the strategy looks like going forward.
We spoke with Sue Ericksen, senior vice president and chief information officer at New York Life recently told us about how a Fortune 100 insurance company with over 12,000 employees and an incredibly complex set of risk management needs is coping with the possibilities and realities of big data technology implementation.
According to Ericksen, her company is "taking a multi-pronged approach" to analyzing the impact of big data on their business and technology needs.
When asked about what this approach entails, Ericksen said, "starting with the hardware, we are ensuring that our storage solutions meet our ever-changing business needs with the right level of reliability, performance and price."
According to Ericksen, the company is "considering implementing a data stewardship model to better control the 'golden' source of data and approved replicas."
She says that the company is currently re-evaluating their data availability strategy to ensure they're using the right business intelligence, data mining and reporting tools to move to a "just-in-time" paradigm.
Ericksen stressed the need for greater flexibility, stating that the company is looking for ways to adapt to the new world of mobile computing or B.Y.O.D. She told us that this mobile data strategy is core to the company's big data approach, in addition to making sure that the overall "tools and techniques used to protect data are the most effective, compliant and up to date."
It's clear that New York Life and other large insurance companies are taking big data seriously; one quick search of the term "big data" (and the host of related keywords, including analytics, Hadoop, etc.) reveals massive hiring for data scientists of all varieties across the board.
Category: Uncategorized